Unleashing the Human Company
We transform the potential, knowledge and experience of People and Organizations into Solutions, Evolution and Results
Knowmad Ventures welcomes you to the:

Organizational Engineering ®
Leadership, Innovation and Organizational Culture
We are living unique and decisive times, with constant change and transformation!
The very concept of what is a PROFESSIONAL, ORGANIZATION, PRODUCT, SERVICE, or CUSTOMER is changing.
People, Leadership, Processes, and the Interaction with Customers need to be supported by an aligned, robust, beneficial, and agile workflow so that they can cope with this permanent revolution.
We help to transform the Potential, Ideas, and Competencies of your People and Organization into Solutions & Results.
Through our unique and integrative approach – Organizational Engineering ®.
We are passionate about Developing, Innovating and Empowering PEOPLE & ORGANIZATIONS in the following areas:
YEARS OF EXPERIENCE
in Individual and Corporate Coaching & Mentoring programs for Executives, Leaders, and Managers
YEARS IN FACILITATION, COLLABORATIVE CONSULTING
AND TRAINING
in multiple organizations & business areas
PROJECTS, INITIATIVES AND WORKSHOPS
for the development of Leadership and Human Capital, Organizational Innovation, Culture and Teams
PEOPLE WHO WORKED WITH US
throughout our professional career. We want to collaborate with even more People and Organizations.
Organizational Engineering ®
ORGANIZATIONAL ENGINEERING ® is our way of working! It's our thing!
It is inspired by the approaches of Coaching, Design Thinking and Agile.
It is an approach focused on the evolutionary development of people, organizations, culture and business ecosystems.
It works as a primary driver to identify opportunities or challenges, to generate new ideas or projects for the development and evolution of People & Organizations.
His personal and professional paths led him to the beautiful world of People and Organizations.
Having completed an international certification in Coaching and several Executive Education programs in Portugal and abroad in Leadership, Continuous Improvement, Design Thinking, Innovation, Transformation and Organizational Culture, he helps People and Organizations to transform their Potential into Performance.
Hugo combines Coaching, Emotional and Multiple Intelligence, Strategy, Design Thinking, Agile, Creative Problem Solving and Culture Enhancement Tools, among many others, to deliver these Results.
He considers himself an Organizational Engineer and believes in a Middle Path for the Mutual Evolution of People, Organizations and Society.
Edite was born in the early eighties. She graduated in different topics, starting with psychology, which gave her roots. Her curiousity drove her learning and her thirst to imbibe newer knowledge: A Master in leading groups in Barcelona for two years, a week of Community Dance in Madrid, 20 days of residency in physical theatre in Austria...
Edite designs and implements interventions in Creativity, Expression and Positive Psychology Applied in Organizations. She believes in the human and hidden order (sometimes well hidden) in chaos. She lives her days connected with her purpose and humour that she shares in her writing or in the stories she narrates in her talks, seminars and workshops.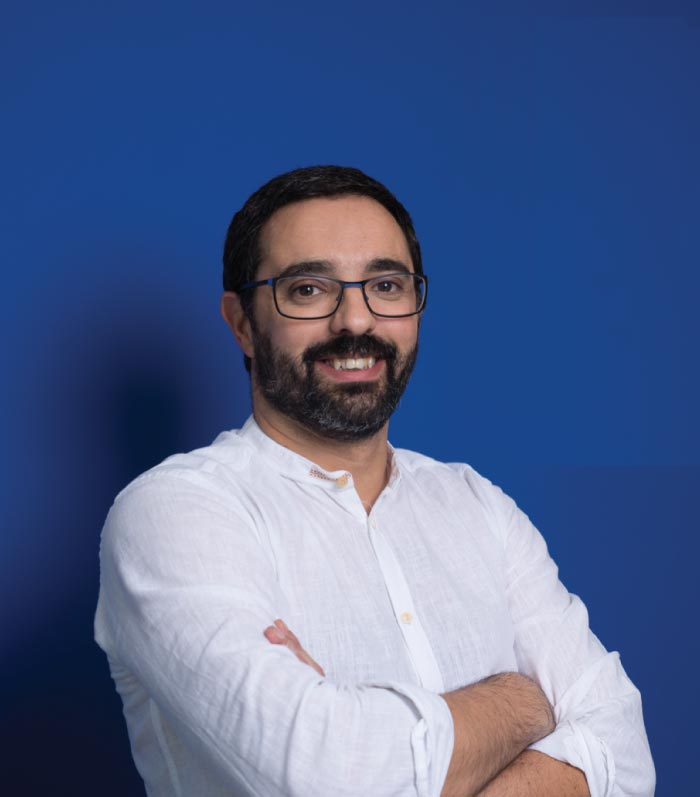 Ricardo's greatest passion is working with and for people.
The core essence of an organization is people, which makes Ricardo believe that change, transformation, improvement, creation are unique and memorable moments for everyone.
As Manager and Agile Coach, Ricardo has supported organizational transformations, teams building and people interactions. He has helped them challenge the status quo. It's necessary to challenge people to get out of their comfort zone, while keeping them in their tolerance zones!
As a consultant and trainer/facilitator of several companies in Portugal, Ricardo has had the opportunity to spread his knowledge and experience in Management 3.0, Sociocracy, Agile, Design Thinking, Coaching, Liberating Structures, product management and other areas.
One of Ricardo's visions is to deliver a positive impact in everything he does, even if it's small, like a butterfly in the desert that can turn into a hurricane of positive change.
OUR MANIFESTO